Absorption surface Ezpad or also called Shockpad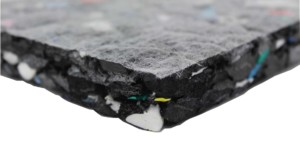 The absorption surface Ezpad is a shock pad that works as an under-layer for your synthetic grass surface. It is 2.95 feet by 7.38 feet and the system is made like a puzzle to lock each sheet together so they stay in place under your artificial grass.  They are 25 mm in thickness so it can reduce the shock from falls and prevent injuries. The thickness respects the international standard for fall height.
Where to apply
The first major application is for the playgrounds area. It allows a safer surface and it assists in reducing the risk of injury. Used for children in daycares, parks, backyard playgrounds, and more. The surface was designed to quickly drain your play area while keeping your child(ren) safe.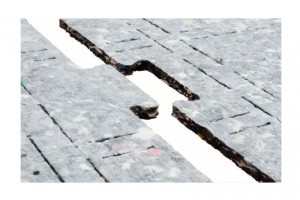 Secondly, the other biggest application is for roof-tops and/or penthouses.  Ezpad will make sure your synthetic grass surface stays dry, comfortable and that the water drains from your gutters easily. Ultimately, the Ezpad shock pad is a green roof system that drains, protects and insulates the rooftop terrace. It will double the life of a conventional rooftop by ensuring that there is efficient draining and in the meantime not damage the surface underneath.
Another benefit of the Ezpad is that it decreases the amount of energy needed to heat and cool the inside of a building. Be that as it may, it provides better insulation in winter to keep the building warm in the winter and cool in the summer.
Once the Ezpad is installed it can also isolate sound. The foam blows the low sound frequencies and the synthetic grass will block the higher sound frequencies at the same time.
The Ezpad is very easy to install due to the puzzle shape. Each sheet will lock together to stay in place under your artificial grass. The Ezpad is 100% made of recycled materials and is also recyclable.
For more details  Click HERE