Best Composite Fencing in the GTA
Here is the link to see the composite fencing Ezfence : https://www.sgcproducts.com/composite-fencing/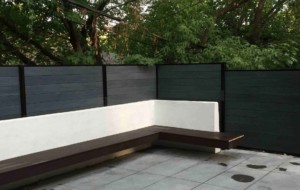 Composite Fencing has become the newest trend in backyard fencing. Above all, composite fencing is finally in the GTA. SGC Synthetic grass and Composite, established in Canada, has the best composite fences called Ezfence. We have now opened new pick up locations across the GTA to assist new and old homeowners get a hold . Ultimately, we wanted to provide an alternative option when choosing a fence for their backyard/terrace area. Usually for a homeowner, the value of a fence may not be monetary in nature. Most homeowners like the added privacy of having a backyard fence, in addition to their decorative benefits which enhance the appearance of the yard and the home as a whole.
Compared to wood, a composite fence will never rot out and is likely to outlive the homeowner. Also it doesn't require any special care or maintenance over the years.. This is a huge factor in areas with a long rainy season where wood products are prone to rot, or where other climatic features shorten the life span of wood fences. Our composite fence is a multi chromatic technology combined with heavy embossing to create a fence with exceptional depth, texture and long lasting beauty.
Ezfence comes with a 25-year warranty against fading, staining, scratching and any manufacturing defects. The boards are made out of recycled materials. Our customers have the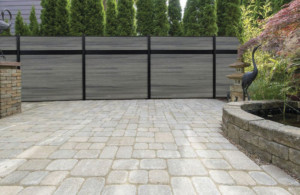 ability to choose from a variety of natural colors. Each board is coated with a protective membrane that will assist with protecting the composite wood.
Horizontal Fencing?
Our Composite Ezfence fence system is part of the newest trend of horizontal fencing. It has become popular as a design alternative rather than the traditional vertical fence. The stacked board appearance provides a modern look when paired with our black aluminium posts and frames. The horizontal fencing allows adjustability for height and width. The aluminium posts are 9' to ensure customers can install into the ground for long term use.
If you're looking for a composite fence that still offers sight-obscuring benefits that's attractive a home buyer and sell Ezfence is your fence.
Finally, We now have a showroom in the GTA located in Mississauga, ON.  This showroom showcases our Ezfence fencing products with a live demo and samples. Feel free to stop by at anytime, our address is 5461 Timberlea Boulevard Mississauga ON