Synthetic Grass Montreal
SGC Synthetic Grass Montreal allows you to choose your own project ideas for installation. Get a free quote for;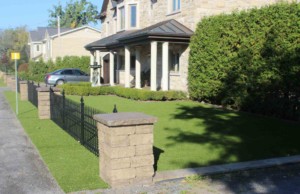 Residential Synthetic Grass Installation
Commercial Synthetic Grass Installation
Schools and Playgrounds Synthetic Grass Installation
Pet areas and Dog runs Synthetic Grass Installation
Putting Green Installation
Why choose artificial grass over natural grass for your landscaping needs? Synthetic turf offers:
No more:
Mowing, and no more air pollution from gas powered lawn mowers used on natural grass lawns
Watering, so no more expensive water bills and no more wasting water
Chemicals or fertilizers, preventing health threats
Pet urine spots
Pests
Pet Turf Installation in Montreal
Most dogs will have an area in the yard that they choose to "go", which ruins real grass and creates brown areas, dead grass. Our artificial turf drains well and allows pet messes to be cleaned up easily. SGC offers artificial grass for your pet that is durable and stain free with a 10-year warranty.
Putting Green Installation in Montreal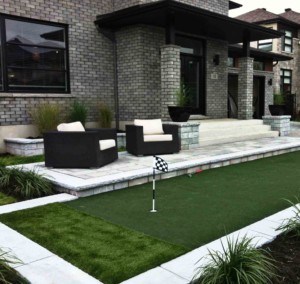 Backyard putting greens are fantastic way of adding an entertainment feature to your backyard. Most backyard putting greens are created with artificial turf, as this eliminates the enormous hassle of maintaining golf-ready grass. With artificial grass, mounds, sand pits, and interesting shapes can be easily created. Synthetic grass are virtually maintenance free and are always ready for play.
Daycare's and Kindergartens
Safety comes first when it comes to our children and their play spaces! Synthetic Grass Canada offers artificial grass that is not only very natural looking, but is also a much cleaner place for children to play. There is no loose sand or dirt to get in kids' clothes, eyes, or mouth. SGC can meet almost all recreational project budgets. We offer a 10-year guaranteed warranty on all of our resilient, durable, and pet safe artificial grass products.