Are you looking for contemporary Aluminum railing for your patio or balcony, or railings for your stairs?
Are you looking for a way to give your outdoor space a touch that is both contemporary and long-lasting? Have a look at our aluminium railing, which is both stylish and long-lasting; it's perfect for your deck, balcony, or patio. The following characteristics of our aluminium railing help to make it an excellent choice for use in any indoor or outdoor area:

A fashionable and long-lasting railing for your patio or deck.
Our deck railing is made from aluminium and Aluminum railing Textured handrail comes in a variety of colours and is textured for an improved esthetic.
An aluminum handrail with a variety of textured colors
The textured aluminium handrail is offered in five colours, including Black, Sandy Beach, Moon Grey, Light Grey, and Natural Dark. Each of these colours can be matched to the aesthetic of your outdoor space. In addition, it has a wood texture to complement the composite decking you have.

Ultra-fast installation with no visible screws
Our aluminium patio railing can be installed quickly thanks to our simple installation system. It also provides a nice finish because there are no visible screws. This not only saves time, but also gives the railing a neat and clean appearance.
A solid and luxurious guardrail for optimal safety
Our aluminium railing features a luxurious and sturdy structure that provides the highest possible level of protection for our customers. The user's comfort and safety have both been taken into consideration during the product's design process. It is, without a doubt, superior to stainless steel railings.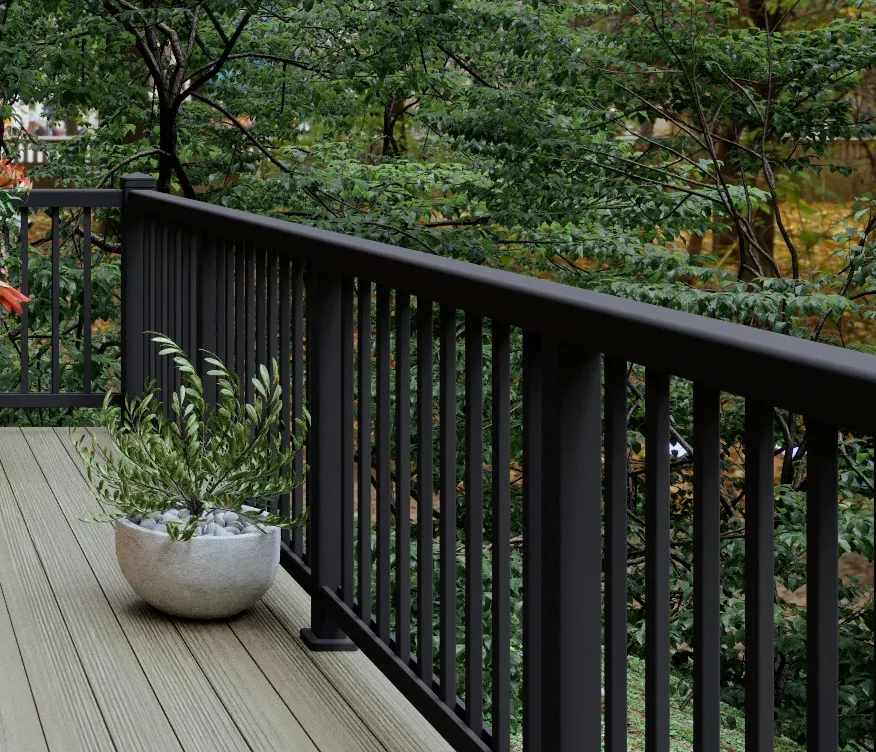 A strong, weatherproof handrail.
Our railing is made of strong materials that can withstand the weather and last for a long time. It is also coated with a premium paint that has a durability of over 20 years and enhances their aesthetics. This paint has a high level of protection against rust.

Conform to the construction standards and building codes for exterior stair railings in Canada
Our aluminium railings are perfect for use as exterior railings in ontario and all canada because they meet local building codes and construction standards. In addition, our aluminium railing offers great flexibility in terms of possible stair angles, making them suitable for a variety of stair configurations. Whether you are looking to improve the accessibility of your home or building, our aluminium railing is a safe and reliable choice for your outdoor space.
Buy now your indoor or outdoor stair railing!