EzFence tongue and groove style composite fencing boards deliver an appearance that is both unique and enviable. Our horizontal pattern fence boards come in a variety of colours, textures and attributes.
The whole kit and caboodle are customizable. You can give a desirable look and size that suits your needs. Our fencing system offers you the same look on both sides.
The aluminum structure provides durability and strength to the overall fence. The black colour of this structure adds simplicity and accent to your privacy screen.
Outline
Draw each side of your fence with dimensions. If there is a gate in-between two fence sections, chart that out too. Here is an example: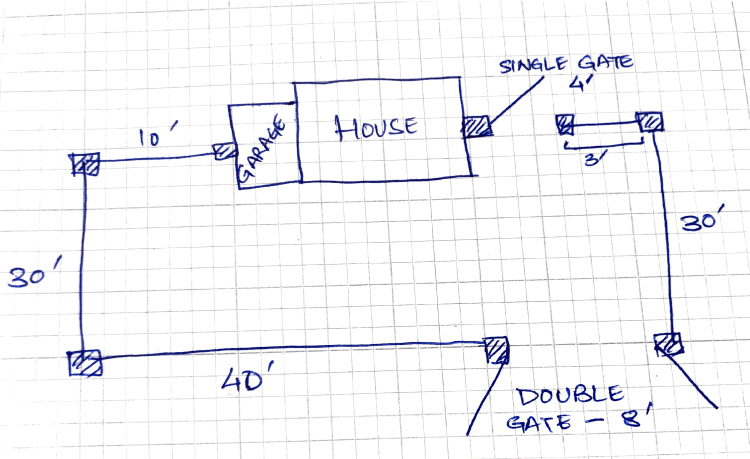 That will give an exact idea of how many posts; and how many panels etc., you will need. It will also be ideal for verifying what you received in your order.
Choose the colour for your fence
We offer more than 20 colour options. There are different grades of composite, qualities and warranties.
Our most affordable line EzFence Design is infamous for its very up-to-date look. This line has three different colour options – Charcoal, Dark Coffee & Sand. There is a 10-year warranty on these boards.
Both EzFence Natural & Elite lines have four and eight colour options, respectively.
The Natural collection boards are moisture and mildew resistant. A 20-year warranty makes them a popular choice amongst those on a budget hunt for quality.
Whereas; the Elite line marks for the best quality boards. It offers a lot more in a limited 25-year warranty than any other composite. This collection, undoubtedly, is our best-seller with every passing season.
The Premium line PVC boards are made with recycled plastic. These boards come with a lifetime warranty and five exceptional colour options – Alaska, Carbonized, Maple, Vanilla, & Cocoa!!
Dark Grey
Light Grey
Moon Grey
Natural
Natural Dark
Roasted
Sandy Beach
White
$

33.35
Dimensions of the fence boards
The length of our composite fence boards is 80 inches. Consequently, the width of one section post to post of the EzFence cannot exceed 6.5ft center to center. We do not custom cut the boards for each section of your fence or gates. If you wish to do smaller panels, you can easily cut the boards to your size.
Because of the tongue and groove style of boards, we include the top and bottom beams to your list of EzFence parts. All you need t do it, secure the bottom beam, slide the boards down and finish up with locking in the top beam.
The next step to the process will be determining the height of the whole fence. If you have a levelled surface, the only thing you need to figure out is – how tall you want your fence structure to be.
A standard fence height ranges between 6 feet to 8 feet. Depending on the purpose, it can go as short as 3 feet.
We offer two paint finishes for the posts and black aluminum structure: Premium Matte & Chrome Semi-Gloss.
The 4 – lengths of our aluminum 3×3 posts are:
Black Chrome/Premium 50″ / 127 cm
Black Chrome/Premium 74″ / 187.96 cm
Black Chrome/Premium 108″ / 274.32 cm
Black Chrome/Premium 144″ / 365.76 cm
Simply put, the Chrome finished metal reflects light – giving it a bright, polished gleam. On the other hand, Premium posts absorb and have no sheen – providing a novel look.
When you speak to an SGC representative about your project, ensure to indicate the height of your fence. If doing different section heights – make sure to mention that too. This way, we can include the most optimal post length.
In the case of unlevelled surfaces, ensure to indicate that in your drawing. Have a look at this illustration: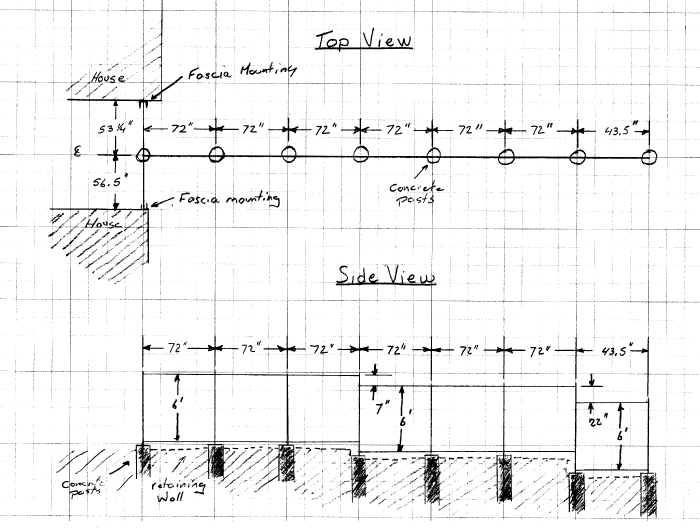 Here, the customer does not have a levelled surface, but he wanted all the fence sections to look the same height when seen from the top. It is crucial to indicate the shift in the tallness of each fence section to include different height posts. If he fails to mention this, he will end up with all tall posts, even for the short stature, and lesser boards for the higher sections.
For entrance through your fence, you will need a gate. When we looked at the first example, the owner stated he has two: a single 4ft gate and a double gate with an 8ft opening. That is the best way to explain to your contractor and the SGC representative the location, size and installation method for your gates.
A gate needs to be sturdy. It is the only part of the fence which you will use much more often. The thing you need to consider when installing a fence is: where to put the gate/gates? It is because wherever you position your gate will not only serve as an entering point for you but your pets, your car or any new furniture you buy.
Here are the items constituted in an EzFence single gate kit:
| Height | Opening Width | Span (center to center) | Mounting |
| --- | --- | --- | --- |
| 6ft | 4.33ft | 4.83ft | Posts Set in Concrete |
11 x EzFence boards of your choice
A 6ft tall fence will have 11 fence boards per section. Similarly, you will receive 11 fence boards for a 6ft high gate. All EzFence boards are 80 inches in length.
We do not cut the boards to a custom length because while installing the fence, there can be minor changes in the dimensions. That can either reduce one section of the fence panel or the gate. For instance, initially, you anticipated to do a 4.33ft gate, you happen to be able to do a 4ft gate now. In this case, you can still cut the boards. If it is the other way round, you will have to buy new boards.
This post can be either an end post or an in-line post, according to your installation plan. That is the post onto which the gate latch gets fastened.
1 x 74 inches Corner/Gate Post
It is a heavy-duty aluminum post that can be used both as a gate post or a corner post. A gate/corner post 3 – slot openings for the boards to slide. The differentiating factors between a regular line/end post and a gate/corner post are:
A Regular post is a 4-screw hole designed with 2-slots, whereas a corner/gate post has 5-screw holes, which in turn provides strength to this post to bear the extra weight.
The walls of a corner/gate post are thicker than a regular line post and hence offer more durability to the fence structure.
2 x 74" Post Channel


A Post Channel comes in the same lengths and finish as the fence posts. These channels are inserted in the openings of the posts not used. These will be included in your items list – you can easily install them by sliding them down the fence post slots.In this gate example, we added two 74-inch post channels to conceal both the unused openings in the gate post.
1 x 108" Post Channel


This post channel finishes the open end of the last post. This channel will not be included in case the fence post continues to another fence section.
The gate frames are designed to hold our EzFence tongue and groove panels. You get one for each side – top, bottom, left and right. These can be easily cut to size of your gate opening.
These gate corners are like the elbows of a gate. They help lock in the gate frames from all 4 corners.
This high-quality set of gate braces strengthens the gates. These are to be secured by black gate screws.
The post caps add an elegant finish to the post and are marked with our EzFence branding.
Our EzFence post base, commonly known as a base plate, is engineered for high performance. These come with pre-drilled holes for the post base screws, concrete anchors and base bolt and nuts.
The post-base screws, as the name describes, are used to secure the base of the fence post onto the base plate.
A post base helps to hide all the nuts and bolts used to secure the post giving an overall polished look.
A pair of these fence gate hinges is a muscle to your gate. These come in a shape that hugs our 3×3 fence posts for an added strength.
We also carry self-closing hinges that meet the requirements for most pool codes. The self-closing hinges come in a pack of three and are polymer so, these won't rust.
Generally, the construction requirements for spas and pools require a minimum of five (5) feet high enclosed fence with gates having a self-closing and self-latching.
PS: Please verify the enclosed swimming pool requirements for your area.
1 x Galvanized Steel Pile
We recommend galvanized steel piles for installation of gates posts, and when building a fence taller than 6ft.
It might sound oddball, but it is a spot-on answer for a long-lasting fence/gate. Now, how it works is; instead of setting the bottom of the post in the ground, you bury this steel pile. The top of the pile aligns with the base of the base.
These base bolts and nuts help anchor the post base plate to the top of the galvanised steel pile (please refer to the picture above).
A multi-purpose product that helps install many of our fence accessories, like affixing the gate braces, mounting brackets, regular hinges etc. We generally include more screws than what we calculate for you.
A gate that operates and locks from both sides offers the ultimate security for a home. This Gate Latch kit is made of polymer and stainless-steel components and thus imparts truly deluxe worth.
**The pack includes the key and installation manual.
Now let us talk about the mounting option for fence posts. Our EzFence fencing system is a very flexible arrangement. We offer you various options for installing the posts:
Setting the posts in concrete
Bolting the posts directly on a concrete surface
Mounting the posts to a concrete wall
Fastening the posts on the steel pile
Securing the fence posts on a deck
Securing the fence posts on the fascia of the deck
Bolting on retaining walls (minimum 6" wide)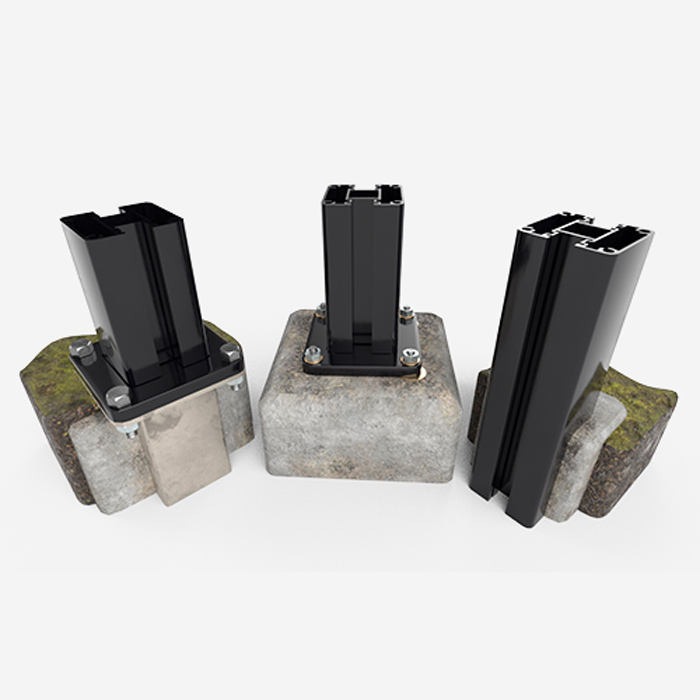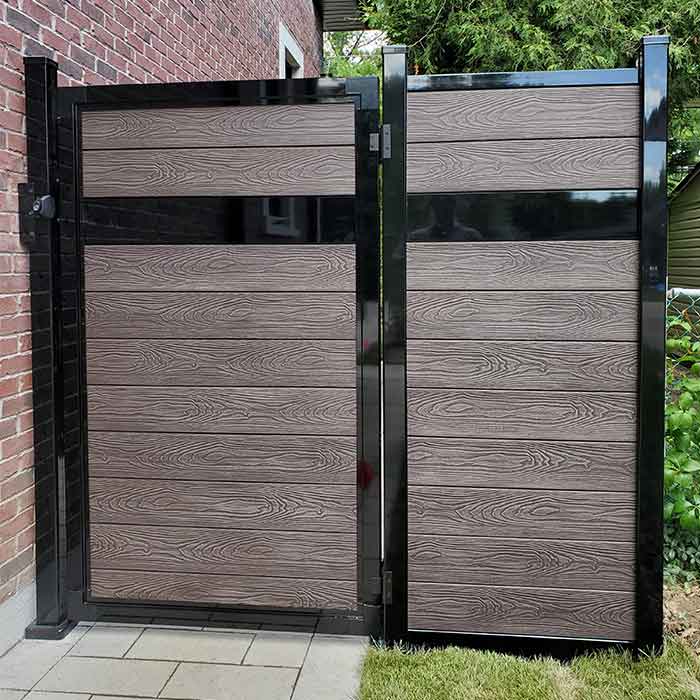 As seen in figure-1, the gate post of the single gate is attached to the wall of his house. In situations like this, you will notice a fascia mounting bracket included in your item's list.
If the client is to attach this post to the corner of the house, we would have included a corner fascia mounting bracket.
Both of these mounting brackets also are used to secure posts on the fascia of the deck.
Options to Accessorize your EzFence:
We offer you a lot of options to beautify your fence. Here are some of the choices: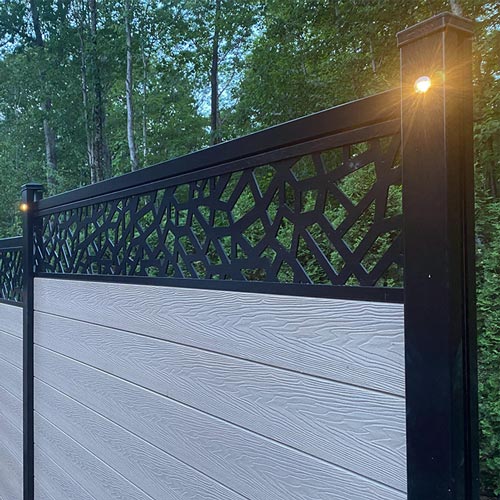 Illuminate your fence by adding LED lighting on the posts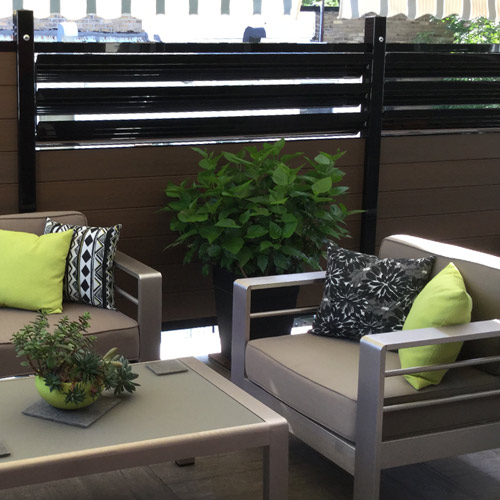 Add shutters that you can manually rotate when you like!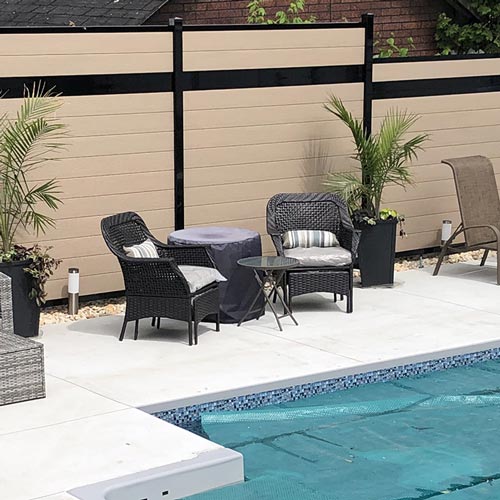 Include an aluminum panel to accentuate the overall look of your fence
It is easy 😀 isn't it! Now, you can always speak to an SGC Representative to help you with you fencing project. Reach us today at 1-877-333-7081 or info@sgcproducts.com.