Everyone has aspirations to renovate their outdoor living space! We all know that renovations can be quite costly, especially when it comes to outdoor living maintenance free products! Artificial grass has numerous benefits such as lessening water wastage and removing the need for toxic lawn care treatments. Therefore, it has been gaining popularity in Canada in recent years.
However, there is an upfront cost that many aren't aware of when it comes to purchasing artificial grass.
General Cost of fake grass
Artificial grass may range anywhere from $4 to $6 per square foot. This price will exponentially rise if installation is included in the overall cost. You may be charged anywhere from $10 to $15 per square foot for the installation and material. This price may range due to a wide variety of factors such as the construction quality of the artificial grass (fiber length, backing material – polyurethane versus latex, density) and your property type. For example, the installation cost will increase if contractors need to excavate rocks or add on an additional layer of the weed barrier due to an overgrowth of weeds on your property.
Example
If you choose a $4/sqft artificial grass model, receive a $8/sqft installation fee, and your property is 500sqft, you're looking at $6000.00.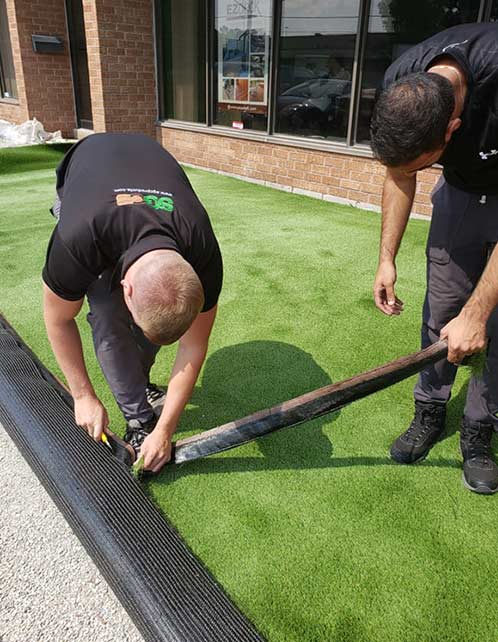 Here at SGC, we strive towards making premium artificial grass affordable for everyone. Our turf models may range anywhere from $1.99 to $4.33 per square foot. We're able to make this possible by selling directly to the consumer. Furthermore, we provide an installation guide for our clients. This allows our clients the opportunity to install the artificial turf themselves. Our clients can treat it as a DIY project. For example:
If you choose a $1.99/sqft artificial grass model, receive a $8/sqft installation fee, and your property is 500sqft, you're looking at: $4,995.00
If you choose a $1.99/sqft artificial grass model, install the turf yourself using our installation guide, and your property is 500sqft, you're looking at: $995