How Long Does Composite Fencing Last?
Composite fencing can last up to 50 years. It is for this reason that many homeowners are currently contemplating this purchase for their outdoor living space despite it coming with a hefty initial cost. The hassle of repairing, maintaining, and subsequently replacing pressure treated wood is no longer appealing to homeowners. It is clear that the longevity of composite fencing far outweighs its initial cost. Below are two factors to consider if the longevity of composite wood plays a major role in your purchasing decision.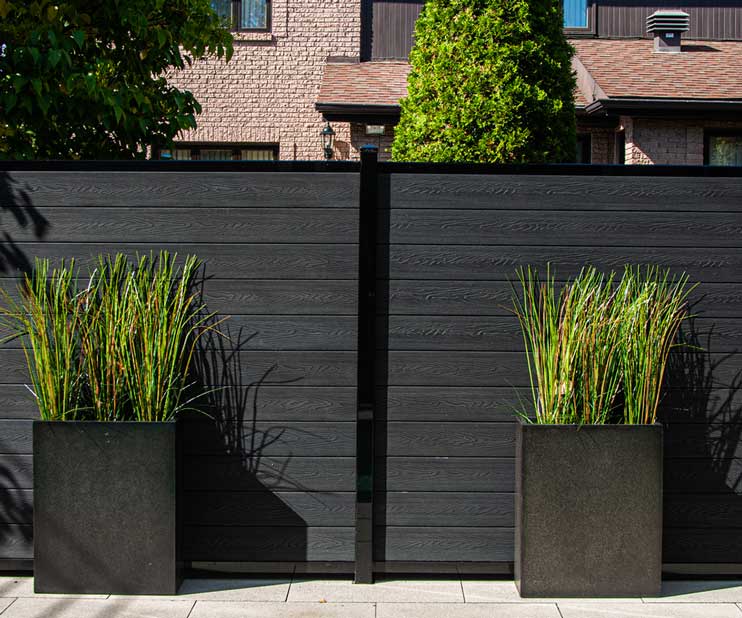 Quality & Durability
Composite may last upwards of 50 years, however, not all composite boards are created equally. The durability and quality of each board greatly influences the longevity of the overall fence. It is important to always look at the warranty provided by the company because this serves as an important benchmark in regards to the composite's overall longevity.
For example, our EzFence Design has a 10 year warranty while our EzFence Elite has a 25 year warranty. This 15 year difference accounts for quite a lot, especially considering the kind of state you'd prefer your outdoor living space to be in years down the line. The reason behind this large gap is due to the type of maintenance free benefits available in each package. Our Design boards have a lower ratio of plastic in them, especially in comparison to our Elite boards. Furthermore, our Elite boards are covered with a 1.5 millimetre thick shield that protects the surface area from UV fading, staining, scratches, moisture, and mildew.
In addition, while you would never need to paint or stain our Design boards, it is important to note that these ones are not equipped with the aforementioned shield. Ultimately, this means that these composite boards do not have moisture, mildew, UV fading resistance, etc. Therefore, while our Design and Elite EzFence boards are both quality products, it is clear that higher warranties signify a larger range of maintenance free benefits and guarantee the longevity of your composite fence.
One of the greatest benefits of composite is its overall longevity. We strongly recommend you contact one of our SGC representatives via our toll-free line: 1(800)742-9168, to learn more on how composite fencing can greatly enhance your outdoor living space.