Composite Deck Tiles Ezclip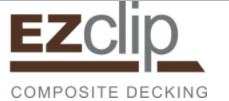 There is something new at SGC this year :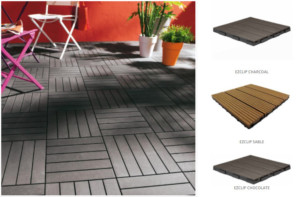 Our new Ezclip composite tiles are ideal for terraces, balconies, patios, condos. It is an ideal choice for people who do not desire to have maintenance in addition to giving a new exceptional look to their cracked and broke surface. This tile is easy to install and requires absolutely no tools. They are supplied with a system of clips already integrated in the tile, in order to make the installation even easier. The Ezclip is also draining so the water flows under the tile to keep your surface dry. In addition, it is removable for people who can not install a permanent product due to the regulation of their establishment. You move? No problem! Take your Ezclip with you! Easy to remove and install. This makes it easy to carry around when you move.
Of course, SGC only sells products without maintenance. Thus, the Ezclip do not require any painting, dyeing or stripping and are perfectly harmonized with our other products, such as Ezfence and our various synthetic grass. So you can design your dream projects and especially maintenance-free decorations very easily. The product comes in three colors available: Charcoal, Beige, Chocolate, in order fit with your existing decor and your home.
Whether you are in Quebec, Montreal or Toronto, do not wait any longer and place your order for Ezclip now. Delivery can be done directly at home or at one of our pick-up location near of you.
The Ezclip adapt to any tastes and budgets and come in length and width of 12 inches. The product comes with a 5 year warranty!
Contact us for your Ezclip composite tile from Quebec, Montreal and Toronto and we will be pleased to send you a free quote!