A brown deck always provides an element of quality to your home and outdoor spaces.
It's timeless, classy and contrasts with any space around you.
Composite decks are not just a decorative addition, but also a durable choice that can withstand damage from high traffic and the elements.
Welcome to our gallery, featuring a selection of stunning shades of brown, you can find in our showrooms located in Toronto, Montreal, Quebec and Vancouver.
1- Sand Composite Decking Ezdeck Design
Sand  reminds one of the beauty of the exotic beaches. This color adds a relaxing touch and a welcoming atmosphere.

Ezdeck Design series compliments any budget, making it the perfect upgrade from pressure treated wood.
2- Teak Composite Decking Ezdeck Natural
Teak color is a bit of a chameleon. This bright yet refined and sober color naturally shifts between light and dark but follows a standard pattern.

Our Natural series features grain texture and deep embossing and perfectly replicates pressure treated wood.
3- Moka Composite Decking Ezdeck Tropical
Moka is a classic neutral, but a remarkably versatile, color that is perfect for any space. This distinguished brown feels warm and cozy without being stern.

Our Tropical series presents a sophisticated wood grain texture.

Shop here
4- Natural Composite Decking Ezdeck Elite
Natural is a classic neutral but  versatile color that is perfect for any space. This distinguished brown feels warm and cozy without being stern.

The ageless color scheme and premium quality of our Elite series truly encompasses the essence of wood.
5- Maple Composite Decking Ezdeck Premium
Maple looks great with a beautiful unique creamy color reminding you of the sugar maple trees that grow across Canada.

Our Premium series adds a touch of luxury to your outdoor living space.

 
Pick Up locations are available in
Get a free, customized quote for your project from SGC Products.
Submit your project details and you will soon be contacted by an SGC representative.
Alternatively, you may also call 1-877-333-7081 or email us at info@sgcproducts.ca to get a quote.
Create your custom kit by choosing up to 6 options from our composite deck range.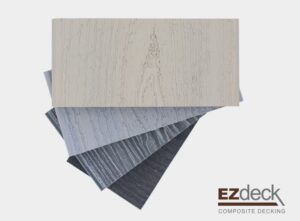 Buy your composite deck EzDeck online

The largest choice of maintenance-free products online at the best prices.
Nation wide shipping across Canada and the USA!