Artificial Grass Shock Pad Ezpad – Absorption and Draining Surface
The Artificial Grass Shock Pad Ezpad is an underpad that absorbs and drains your synthetic grass. It was designed specifically for children safety on playground systems at schools/daycares, sports fields, backyards and rooftop surfaces. In fact, the cushion-like material minimizes the risk of injuries when falling and ensures an efficient drainage. Furthermore, Ezpad has a 25mm layer with an interlocking panels that look similar to a puzzle. Therefore, any customer could install them himself!
Ezpad Surface for Playground Systems, Kindergarten, Daycare and Parks
Our Ezpad is an underlay and draining surface that is made to reduce injuries for children. In fact, this Shock Pad is designed to protect the children from fall height. Additionally, it is used in many applications such as playground area, schools/daycares, backyards. Also, the absorbent properties of the Ezpad reduces the impact from a fall and adheres to the highest safety standards in the industry. Moreover, our underlayer is installed under the synthetic turf and is lead-free and made without glue to allow the children to play in a safe environment. Besides, the installation is easy due to its puzzles shape and at the same time it has a 100 year lifetime durability. Finally, as for drainage, the water will flow quickly into the surface. Therefore, your children will play freely outside after torrential rains.
DRAINAGE + ABSORPTION + PROTECTION + ISOLATION 
Provides the best protection from falls height
International Certification
Draining and Insulating membrane
Easy to install
100% recycled and recyclable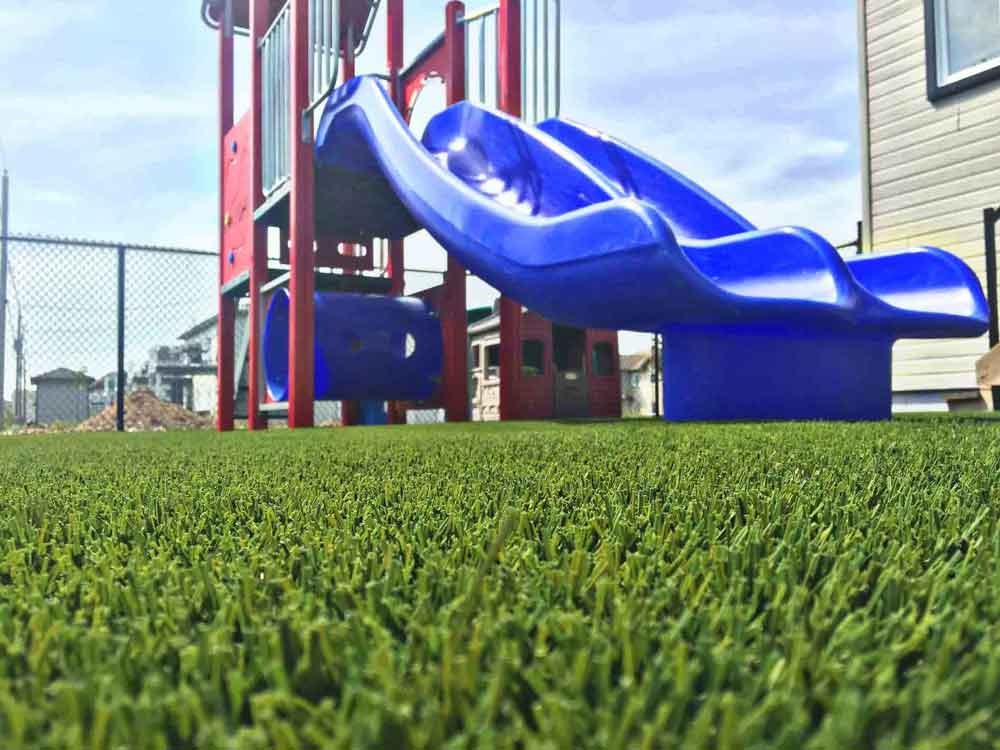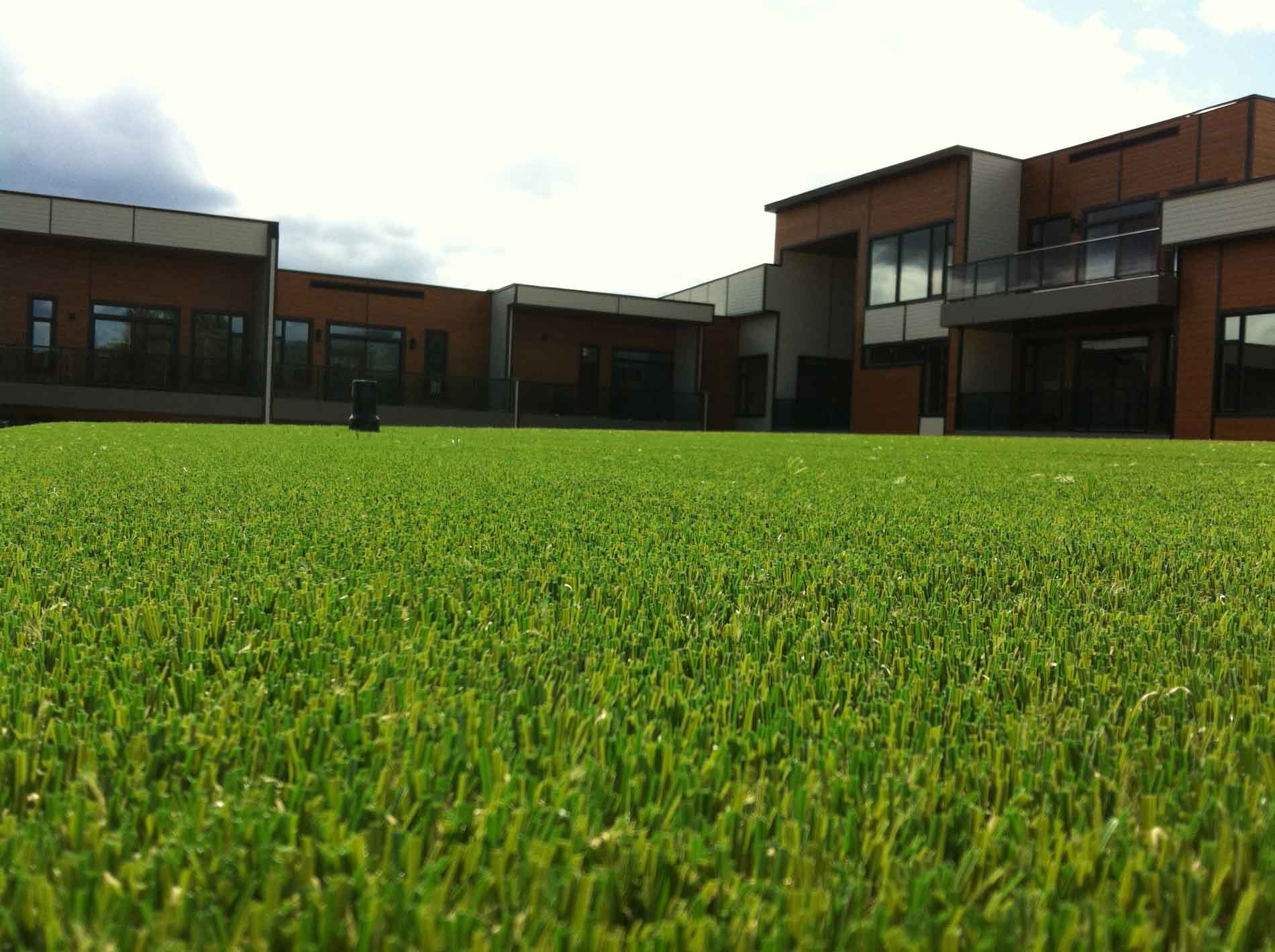 The Drainant Under Pad for Roof Terrace and Penthouse
The artificial grass shock pad draining surface is a green system that not only drains but also protects and insulates rooftop and terraces. In reality , it doubles the life of a conventional rooftop by ensuring an efficient drainage and in the meantime to not damage the underneath.
ENERGY SAVING
Ezpad decreases the amount of energy needed to heat and cool the building. In other words, this underlay provides a better insulation in winter to keep the building warm and cool in the summer.
ROOF PROTECTION
Green roofs protect roofing membranes against extreme temperature fluctuations. As a result, it reduces the need for roofing and the amount of waste destined for the landfill. In addition, the Ezpad is 100% recyclable and made from recyclable materials.
SOUNDPROOFING
Ezpad is also designed to isolate sound. In reality, the foam blocks low sound frequencies and the synthetic grass blocks higher sound frequencies at the same time.
DRAINAGE
Lastly, the drainage layer Ezpad is excellent for the retention of rainwater. 
Ezpad is made with 100% recycled and recyclable materials - Eco-Friendly Products - LEAD-FREE made without glue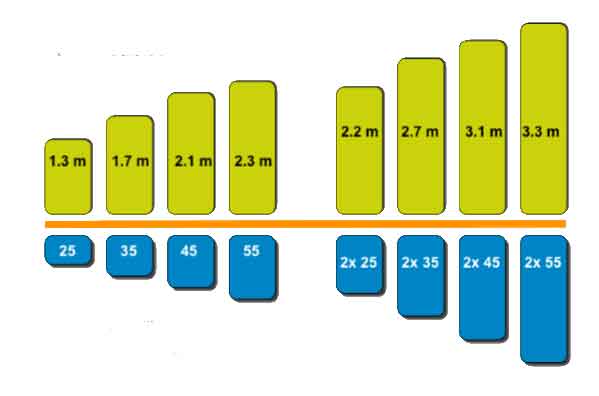 Technical Sheet Fall Height
Artificial Grass Shock Pad Specifications
Thickness less 2 kPa load 27 mm
Mass per surface 2.7 kg / m²
Performance
Head Injury Criteria (1000) 0.8 m EN 1177 / ASTM F 1292
Drainage and Insulation
Water infiltration rate 36000 mm / hr EN 12616
This specification is based on the measurement of laboratories (independent) and to the best of our true and accurate knowledge (at the time of review). All values mentioned above are measured over a long period and representative. In addition, the additional information (ex:  characteristics, specific test reports or statistical analyses) are available upon request. Another equally important, SGC has the right to modify these specifications and/or products (without notification). SGC takes no legal responsibility for the use or reliability of the data.