Pet Friendly Artificial Grass
For Dogs and Cats.
PerfectLawn Series
SGC's pet turf system is the best on the market! Our artificial grass yarn fibers have innovative technology in them that make them more resistant against pet traffic, digging, and harsh weather conditions. Each pet turf model has twice the amount of drainage holes. Furthermore, our pet turf system prioritizes polyurethane backings as these are known to be more resistant against pet urine.
PerfectLawn Accessories
Our PerfectLawn Accessories are the perfect companion to our pet turf system. We offer a pet based antibacterial infill and deodorizer.
Pet Deodorizer
Our PE-51 Cleaner and Deodorizer prevents the formation of hydrogen sulfide, aka the rotten egg odor left behind by pet urine residue. It is certified salmonella free and made of completely all natural, non-pathogenic active bacteria.
Zeolite
Our Zeolite is a granule based infill that absorbs moisture and eliminates odor by removing the conversion process of ammonium into gas. It is made out of non toxic, natural volcanic mineral.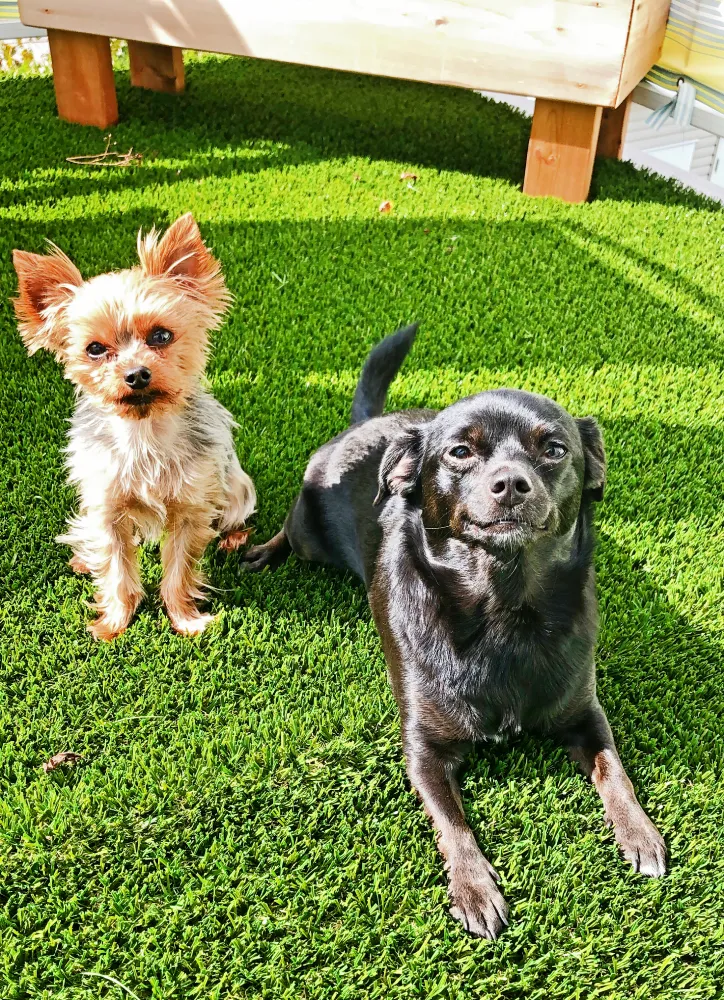 Pet Turf System Advantages
Easy to Clean
Eliminates odor with effective drainage
Resistant to traffic and digging
Always green and clean
Your pet will love it
Maintaining a clean and tidy yard can be challenging when dealing with animals and natural grass. The accumulation of mud on your pets' paws during bad weather, or the holes dug by animals can make the task even more difficult. At SGC, we understand these concerns and have developed a synthetic pet grass solution that is ideal for pet owners. Our artificial grass for dogs features enhanced venting, allowing for easy drainage of urine and eliminating unpleasant odors. With 4x more venting than other fake grass for dogs, our pet turf synthetic grass is the perfect solution for keeping your yard clean and fresh.
The rapid drainage system allows the wet grass to dry quickly, preventing your animals paws from soaking up any unwanted water and to avoid wetting the inside of your home. To clean the grass simply use a water hose. Pet odors and burnt grass on natural lawn will soon be part of the past with our synthetic turf.
Is artificial grass good for pets?
Our Artificial grass requires no fertilizer or pesticides which could affect the health of your pets. In addition, all our products is nontoxic and your animals will not be harmed.  Since the synthetic turf is hypoallergenic and antimicrobial, chances of catching insects (fleas, ticks) are almost nil. You'll love your artificial pet turf by its beauty and softness on your feet and for your pets paws.
Is artificial grass harmful or irritating to dogs?
Our artificial grass products are non-toxic and free from harmful substances, making them safe for your dog to use. Dogs and natural grass often do not mix well, and grass allergies are surprisingly common in dogs. By choosing our lead-free products, you can rest assured that your dog can enjoy a beautiful and low-maintenance yard without any risk of harm.
ARTIFICIAL GRASS FOR PETS